Barn Buddy Award
The Barn Buddy Award was created by Munce Racing in August last year to acknowledge loyalty and respect by all staff at the stables.
Each month a staff member is given the award for excellence in their effort towards helping fellow workers, caring for horses and going the extra distance to making the stable operate to its full potential.
The award provides recognition to our staff and ensures that they are truly appreciated for what they do every day at work.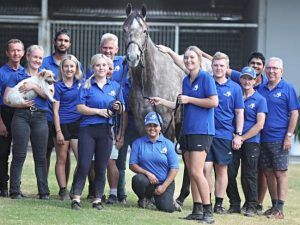 BARN BUDDY AWARD – HONOUR ROLL
AUGUST, 2018 – Shane Champion
SEPTEMBER, 2018 – Aman "Junior" Kumar
OCTOBER, 2018 – Caitlin Munce
NOVEMBER, 2018 – Karl 'Killer' Oldham
DECEMBER, 2018 – Judy Roberts
JANUARY, 2019 – Sarah Dobe
FEBRUARY, 2019 – Montanna Savva
MARCH, 2019 – Corey Munce
APRIL, 2019 – Amanda Bargo
MAY, 2019 – Peter Strong
JUNE, 2019 – Barry Barnes
JULY, 2019 – Juliette Partridge
AUGUST, 2019 – Erin Molloy